Day 62: My disappearance 👻
Solo tripping 🍄 and V2 of this newsletter ✨
Where to begin? They say to start off with a call-to-action, so that you don't lose the interest of your reader as time goes on. So,
Introducing: CoVibes
✨
The whole point of this newsletter was to give myself an outlet for all the anxiety I had around the coronavirus situation, and to also provide the audience (you, yes you), a small break from all of bombardment of bad (yet sadly true) news out there.
So over the last little bit, I actually managed to convince (coerce? force? heh) some friends into working alongside me to develop a V2 of this very idea. So here it is:
CoVibes ✨, a virtual source of real, uplifting, bite-sized prompts and stories for mindfulness during these difficult times.
You can check it out here: http://covibes.app/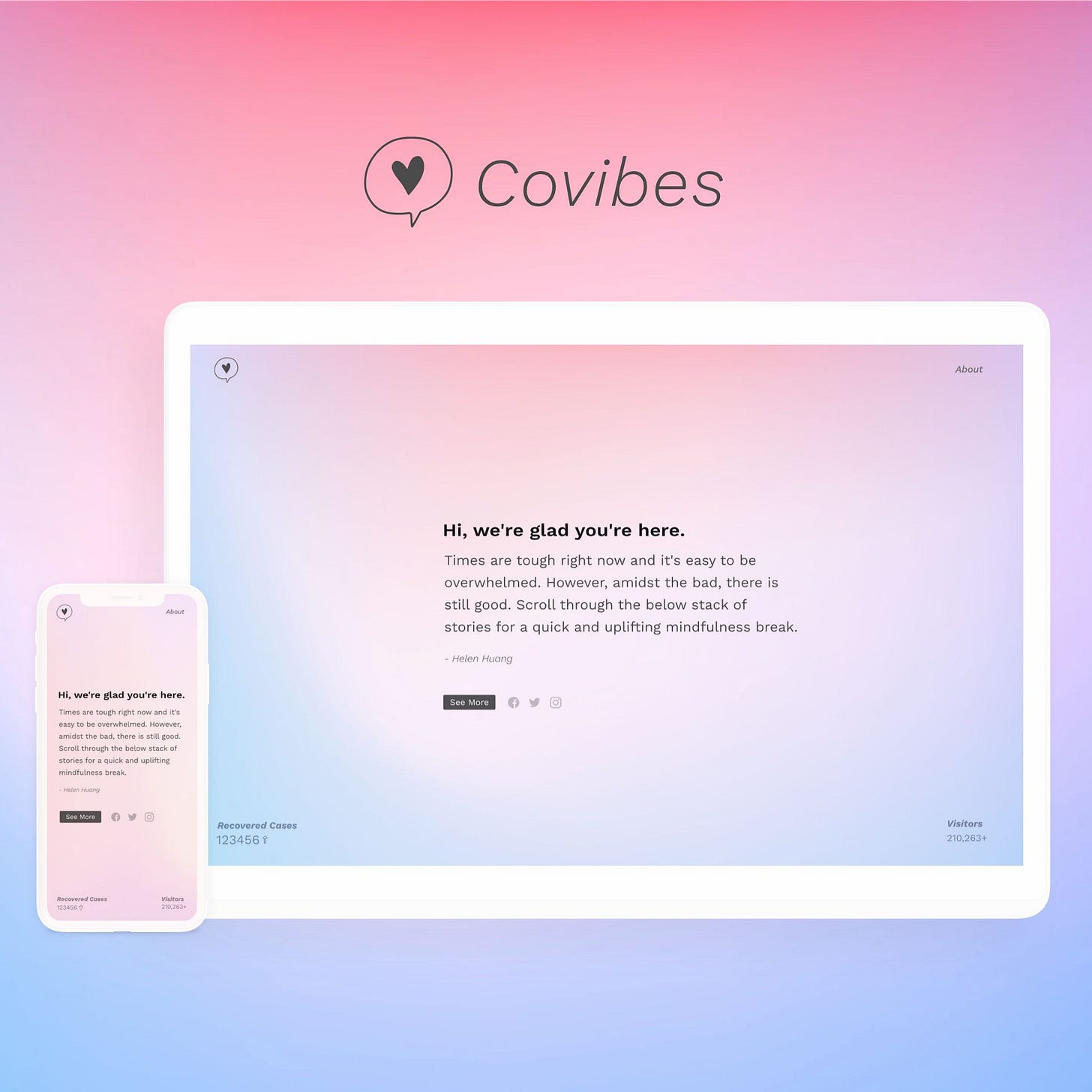 We actually made it for the Product Hunt WFH Maker Fest. 🥺 Would appreciate a vote if you liked it! Voting will close tomorrow, Friday 24th 11PM PST!
To vote: visit https://www.producthunt.com/makers-festival/wfh/voting, ctrl+f (search on the page for) 'CoVibes', and click ⬆️.
Random thoughts…
I guess what triggered this all was doing psychedelics in isolation.
Though before I even say more about that, I just have to call out: It's also very weird to start writing this again after such a long time away. It's like, do I just give up? And pretend none of this ever happened? Or do you dust off your shoulders and continue anyway?
Even pausing on this article and trying to consider how I can say certain things better is essentially just a form of over-planning right? Over-planning which is really just procrastination. Sometimes you should just pull the trigger and see what happens.
So yeah, how about I just publish this now, and see what happens next?
Hope you're still taking care,
Helen.