Day 32: What's the point of a 'compelling' title now anyway? 🐹
We all know what the topic is going to be about.
Total Recovered Globally: 122,203+
(14,899+ more than Wednesday! According to Johns Hopkins CSSE, 7:08PM March 26, 2020)
---
Daily Blast of Happy News
Imagine all the people...
—-
In life, there are so many things that divide us. Religion, race, politics, social status and many more....But today a global pandemic brings us all together as one.
—-
Over the next few months our health care system will be tested. Many lives will be lost. Health care providers will be under an incredible amount of stress to save thousands of people. But when times are as dark as they are today, nothing shines brighter than the human spirit. —-
There is something beautiful about a collective struggle. And the beauty in what we are facing today is that the only way to overcome this pandemic is for us to all come together as one....
—-
Nurses, doctors, students, research scientists, politicians, Uber eats drivers, cashiers, factory workers etc.....Getting through this will be hard but one thing is certain...the only way we will get through it is together, as one
—-
—
—-
"You might say that I'm a dreamer. But I'm not the only one. I hope some day that you will join us...and the world will live as one...."
—-
—-
—-
Full song on IGTV
—-
—-
—-
Thankful for my brother
@w_a_robinson
on the piano
—
📸
@kpace1914
—
—
—
Much love to all 7.53 billion people out there,
Doctor Elvis
—-
#covid_19
#healthcareworkers
#imagine
---
Isn't it hilarious that literally one day after I said "I have a routine", I … ceased to have a routine?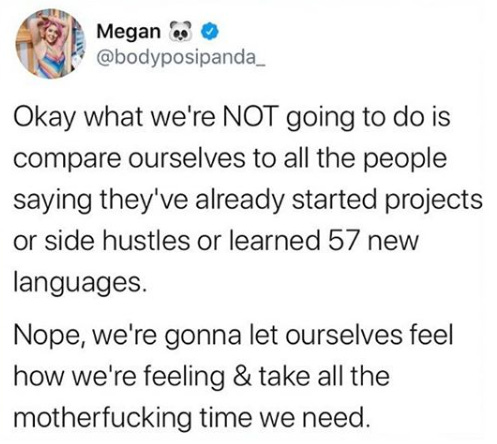 This image sort of speaks to me right now.
Yes yes, I get how one can say "what do you mean, you literally are writing this blog thing!!!", but… writing this is difficult AF. First it's like, who the hell even cares to read this 😆, then it's like wow finding good news is hella hard, followed by I could… really just go sit down right now, I don't even have a damn computer chair! 🪑
The moral of the story though is: Do what you're able to do. Take care of yourself! You need to in order to then turn around and help take care of others around you, your friends, and family. This is absolutely going to be a marathon and not a sprint.
As a result,
I spent yesterday eating all the foods I wanted to eat, and slouched over on my couch, watching Hulu. 🍏 Oh yeah! I also managed to finally convince my parents to shut down their store (temporarily)!!! Today was their last day in at work and I'm extremely relieved. We'll consider what to do after everything is over, but for now I'll just be helping them keep an eye on what benefits the Canadian government provide for small businesses.
Anyhow, what's a show you've been watching recently?
Let me know if you want my Hulu login… (I'm serious). 🤣
😗, Helen.