3/20: The impact of art, dance, music, food on the soul
Close your eyes and let the music take you.
Total Recovered Globally: 87,363+
(2806+ more than yesterday, according to Johns Hopkins CSSE, 12:28PM March 20, 2020)
---
Daily Blast of Happy News
More along the music front: check out some livestreams from past festivals like EDC Las Vegas, or my RickyRombo's DJ stream tonight!

Want to get up and actually move? Check out popular dance studio STEEZY's week of free classes. It starts today!

In other news: unemployment benefits and eviction moratoriums are starting to roll out in North America + there is definitely more to come!
---
Take the time to get proper nutrition 💐😋
Countries, cities, neighbourhoods are in various states of lock-down and quarantine. For Seattle, we are still in the stage where we're able to walk outside if needed, but we need to maintain our distance as much as possible and limit human interaction. Businesses are still open, with reduced hours, conducting takeout and delivery.
I went to grab a coffee today (OK and a breakfast bagel, yum) from my favourite local spot. The owner had set out these mini flower arrangements for their customers that ventured in. 🥰 It was a nice touch. 🌷
So yeah, maybe now is the time to try out those takeout places you didn't get a chance to before! Or utilize no-contact, delivery-fees reduced programs like Uber Eats, or Postmates. Or leverage the various local food drive/free food options local to you. Just make a search online (and supplement your query with the term 'coronavirus' and there's plenty of options.
And now of course, if you have spare time and effort and want to volunteer in a variety of ways: https://helpwithcovid.com. Let's make sure those that need assistance the most are able to get it.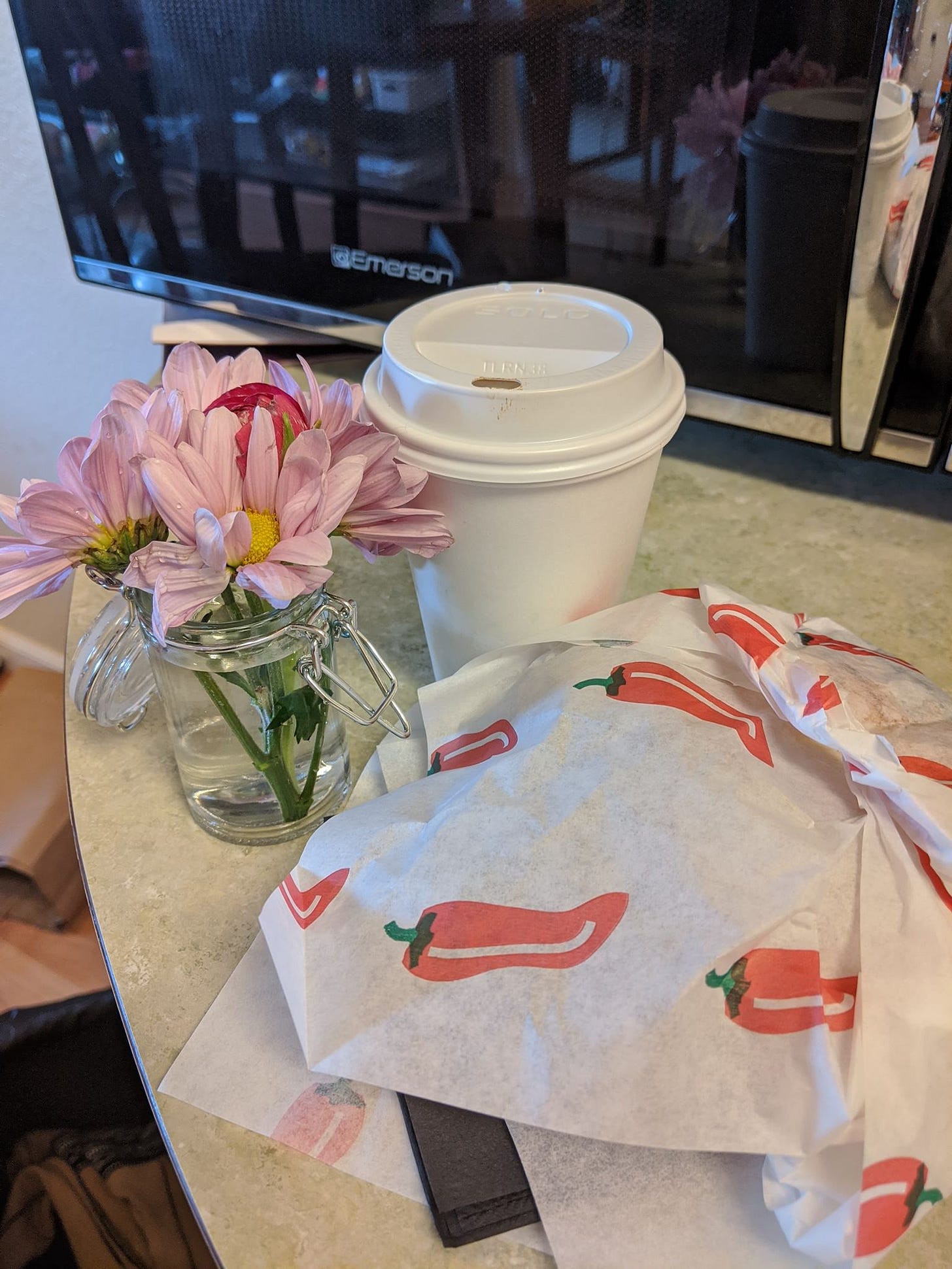 ---
OMG work is so busy…
Exactly the title. Switching teams and ramping up and learning more and wanting to do a good job… all without really being able to be as productive as I normally am, etc. *sigh* 😓
Send me your stories!
So, I'd love to hear (and share) your personal stories as well! Or if you're willing to help me source some good news, that would be extremely helpful. Either comment on one of the posts here, email me at helenlyhuang@gmail.com, tweet at me @herenhuang, or send me a message on Instagram.
If you want to hear some funny (and still uplifting) anecdotal stories, check out the podcast I've created to accompany this blog series.
If you're looking for more even more good news, check out this curated Twitter collection I've got going on.
Don't forget to share this with your friends too! :)
Have a great day,
Helen.