3/17/20: It's sunny in Seattle 🌞
no seriously, great weather today here even with coronavirus concerns
Total Recovered Globally: 80,643+
(according to Johns Hopkins CSSE, 4AM March 17, 2020)
---
Daily Positive Headlines
---
Not all heros wear capes
Yesterday, I was watching Washington Gov. Jay Inslee talk about the heroic actions that every day people, like you and me, are doing during this scary time. That's what made me want to start sharing a collection of more uplifting news - still factual information, but with a brighter spin.
Anytime you go online right now, you're just bombarded with really depressing info. Bright red numbers, underlined twice. Being stuck at home. Feeling isolated. The thing is, we definitely cannot downplay the intensity, and crisis of the times we're currenty in. However, this is absolutely a prime time for us to come together as well, and we've already started to see that happening. And that's heartwarming, isn't it?
So, if you have an uplifting story, anecdote, or article to share with me, either comment below or tweet me, @herenhuang. I'll be making a curated collection of happy coronavirus news to share soon!
---
Some meta stuff
This is my first ever post here. Woo! Hope you guys can follow along while I figure out what format works for me! I'm thinking about posting daily in this format:
Recovery count

Positive news headlines and links

A few dedicated paragraphs on something nice

Ramblings about life currently
I just want to be able to give you all what you came for (aka the good news?) before talking about my thoughts. Not like one of those recipe blogs where you have to scroll through life updates before you get to the recipe instructions themselves.
What do you all think about this idea? 🤣 I suppose even if no one reads it, it'll be a good exercise for myself to stay positive amidst the anxiety and isolation.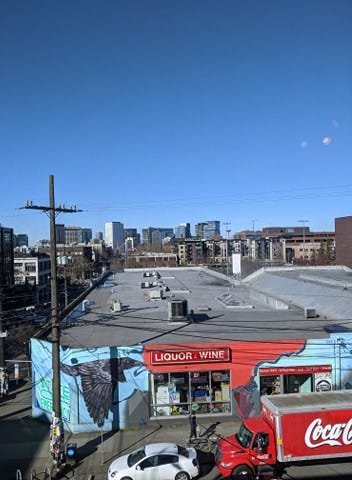 Here, have a super quick shot of the nice skies I took outside my window. Good old Liquor & Wine store (I don't drink though so… 🍵).